Being a Purina Certified Expert Dealer means that we offer a complete line of quality Purina feed products and have knowledgeable associates who care first about our customers, and their animals. Training is a key element for our Certified Expert staff and you can depend on us for Certified Expert advice!
Bulletin Board
We're closed on Christmas and New Years and will be closing early, 3:00 pm, on Christmas Eve and New Years Eve
Expert Articles & Advice
December 1, 2013
If you've ever ventured to the doggy park, you've seen how antsy dogs can get when encountering one another for the first time. This is entirely understandable and normal for random encounters, but what about introducing a new puppy to the dogs you already have?
December 1, 2013
Equine breeding is undoubtedly an exciting venture for horse owners. Humans develop unbelievable bonds with their horses and deciding to pursue breeding only furthers this relationship.
Special Offers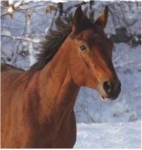 20% off all in stock tack. Don't miss out on this limited offer.
Valid 12/01 - 12/24/2013
Purina Equine Videos
Chris Hickey, Purina ambassador and director of training at Hilltop Farm, Inc., shares why he feeds Purina® FreedomFlex™ Joint Health Product.
Quick Contact & Hours
Mon - Fri
8:30 am - 6:00 pm